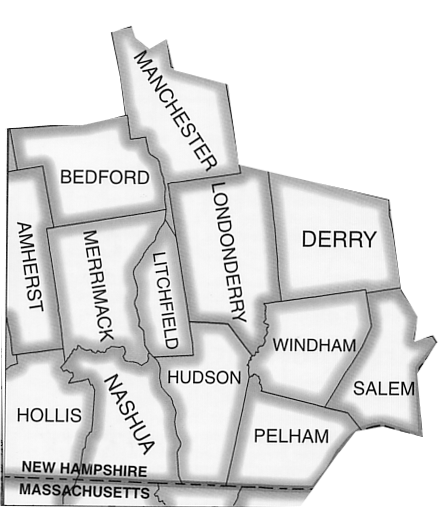 The Merrimack Valley's past is every bit as colorful as its maple trees in fall. A century and a half ago, the red brick mill communities welcomed immigrants from Greece, Canada, Ireland and around the world. These people helped make Manchester the largest textile-producing city in the world in the late 1800s, outstripping even Manchester, England.
The Merrimack Valley is every bit as diverse as its people. It is the major center for government and business in the state. Its two largest cities are Manchester, the state's financial center and home of the state's largest airport; and Nashua, which was cited in 1997 and 1987 as the best place to live in the U.S. by Money magazine.
A few miles from the center of the cities you can find yourself in some of the most peaceful and scenic countryside in the state, from Canterbury, where a Shaker village graces a hillside, to Allenstown, where 9,600-acre Beaver Brook State Park is located, and Derry, where poet Robert Frost once lived and wrote.
Amherst
Bedford
Derry
Hollis
Litchfield
Londonderry
Manchester
Merrimack
Nashua
Pelham
Salem
Windham